MCAFEE LOBBY
We partnered with Downstream to create not one but two touchscreen applications for McAfee.
The application connects to a SQL database which allow the user to easily search for "exciting" moments in McAffes rich history. Animations we're also created using particle fx to create an ambient mood in an otherwise stale search. In addition we developed a full screen video player using Mood+Robot's personal video library.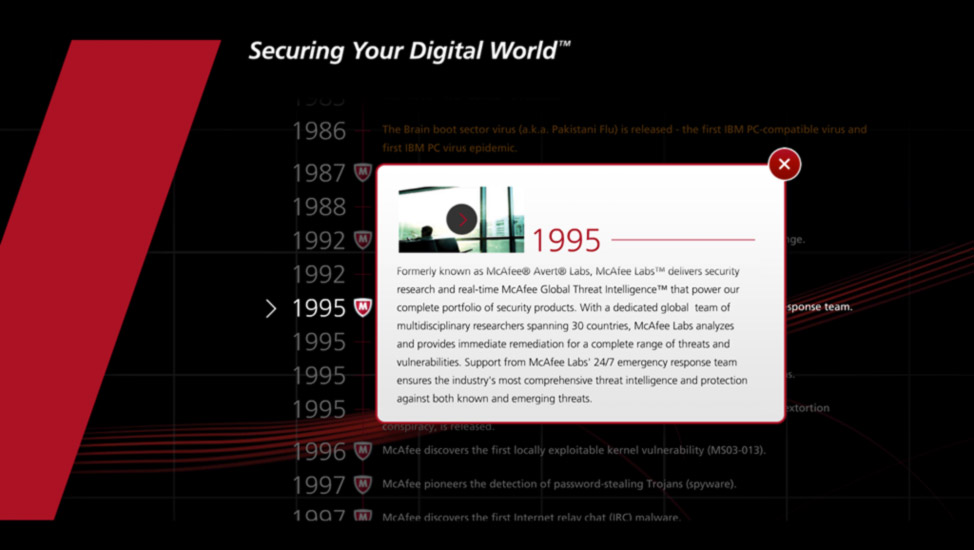 EMP MUSEUM - STOKER

Interactive video touchscreen installed next to Bram Stoker's original manuscript.

NEVADA HISTORY MUSEUM

Touchscreen innteractive demonstrating the history of nevada's geology.

MCAFEE LOBBY

Mulitple touchscreens allowing users to search history and patents for McAfee's software.

XEROX COLOR QUBE

A stop motion infographic created for the new Color Qube Xerox printer.

TREE OF LIFE

An animated explainer video for a survival system

CHOKING HAZARD

A short film demonstrating the hazards of Recycling.

ADU VISUALIZATION

WebGL Visualization for McCune Architects

COORS 3D MICROSITE

A 3D interactive microsite highlighting the coors family of new products.